Newomen Club Well Represented at New Orleans Women's March
On Saturday January 20th, dozens of Newman students, parents, and faculty led by the Newomen Club, attended the second annual New Orleans Women's March.
The march in New Orleans was part of an international movement where millions of people across the globe took to the streets in support of gender equality. The New Orleans march started in Duncan plaza, moved its way through the CBD, into the French Quarter, and then back to where it began. Despite having crowds that stretched on for blocks, the march was just over half the size of last year's 10,000 person crowd, according to estimates. As Newman faculty member Bruno Vetter explained, a decline in numbers at events like this is to be expected, however he remained positive about the movement's future, saying "In terms of progress, I think the level of engagement amongst people who would call themselves either the resistance or Democrats is much higher, and what I thought was going to happen was that it was going to kind of fizzle out as the year went on, but if you look around today, I don't think the numbers are going to be quite the same as they were last year, but it doesn't seem like people have given up completely."
As with last year, this march had a distinct anti-Trump tone, as it took place on the anniversary of his inauguration. However the message went well beyond criticism of the president. While this year had plenty of moments where the President did or said terribly offensive things, it was also a year filled with brave women coming forward in the "Me Too" movement, and a year in which record numbers of women announced they would be running for public office. This march was very much a condemnation of the president, but even more than that it was a celebration of strong, brave, and powerful women. Speeches were given in Duncan plaza by both New Orleans Mayor-Elect Latoya Cantrell, and City Councilmember-Elect Helena Moreno. Cantrell celebrated the fact that not only had the city elected her as its first female mayor, but that it had chosen two women for the runoff, the other being former judge Desiree Charbonet.
The Newman Community, led by the relatively new Newomen club, came out not only in force, but they came organized and prepared, much more so than last year, said Newomen club sponsor Allison Bach. "The only delegation from Newman last year were individual faculty members and students who went with families or friends. There was no delegation last year. There was no Newomen last year really. I mean there was an attempt by some girls to form a club where they could speak their minds, so yeah there's been huge progress. Like we actually exist now. The progress has been that we exist and that we are a safe place for kids to talk about how gender has an impact on their lives both in general and specifically at Newman."
Students were thrilled to be a part of the experience. Senior Katie Vogt said "It is wonderful to be a part of a movement like this because it is great to be surrounded by people who think like you and who are fighting for the same things as you. I'm marching because I know too many women, and not just women but men too, who have been abused or oppressed and that just needs to end." Vogt went on to say that Newman in general needs to become more involved in events like the Women's March because "it's over 50% of our student body and this march supports them."
Overall, it is yet to be seen exactly how large of an impact marches like this will have. The main goal, especially with midterm elections coming up, is to encourage women to run for office and to win. The first part of that goal seems to be going well as record numbers of women are entering races for seats traditionally held by men. Whether this will result in more equal representation in government is something that will not be known until November, but if the passion of those marching was any indication, things are looking pretty good.
The increase in engagement and interest amongst women in running for office is not just good news for women and supporters of gender equality, it is great news for the Democratic Party. As Mr. Vetter said, since Trump took office "we've flipped – by 'we' I do mean Democrats because I am a d=Democrat – 34 state legislature seats, 1 Senate seat in Alabama – which is pretty impressive – 1 governorship, and I think maybe a couple of representatives as well. So the 2018 midterms are basically going to be a referendum on Trump and his approval numbers are only 40%, even with a semi-booming economy thanks to the last year of Obama, and that 40% is artificially inflated. I think it's going to crash meaning that the 'Blue Midterm 2018' is going to be a pretty big deal."
When talking to members of the Newomen club about what they hoped would be achieved one theme was constant: what can Newman do to ensure that it is a safe and equally effective learning community for all of their students? That question has yet to be fully answered, but many are hopeful that through events like the Women's March, or through their regular club meetings a conversation will be sparked around that topic, and that conversation may end up making Newman a better place. As Mrs. Bach said "Newman students are really thoughtful individuals who are careful to both educate themselves and, unfortunately, all too often please others. Over the course of the past two years the women's community especially has come together in search of solidarity and support. It feels appropriate to introduce students to the same kinds of dynamics that are occurring across the city and across the country."
About the Contributor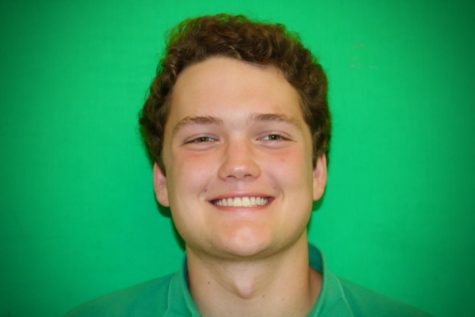 Wicker Perlis, Writer
Wicker Perlis is a 12th grader who writes articles for the sports section. His favorite color is green, he has a pet dog named Cody, he is an Aries, he's...