Swim Team Update: Instagram Edition
The Newman swim team is setting out to break many things this season: records, the bulkhead (RIP Gard's foot), and thanks to the creation of its new Instagram account, the internet. Just like all Newman sports teams, the swim team compares themselves to one massive family, and this season that family has a new matriarch, Coach Kristi, who has become the ultimate instagram mom.
From the team cheer boomerangs to swimsuit rainbows and meet announcements, no Newman student can deny that the swim team has an incredibly active account. Despite some students complaining that they have no clue who they are watching due to caps and goggles, the account still boasts an impressive 118 followers. While the team eventually hopes to get a sponsorship from their favorite bathing suit company, they also have some more realistic goals for the season.
On both the boys' and girls' sides swimmers are inching closer to shattering Newman records and winning two more state championships. After three meets, many swimmers have already qualified for state and many more are incredibly close.
As the swim season continues, wish your Greenies luck as they hope to capture a fourth state championship win.
Go follow the team on Instagram: @newman_swimming
About the Contributor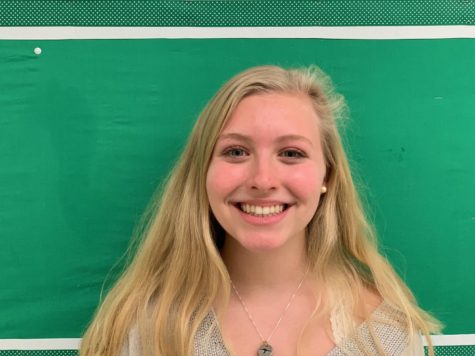 Serena Klebba, Editor-in-Chief
Serena is a senior who has written for the Navigator all four years of high school. Some of her favorite memories from her time working with the paper...