Women's Basketball Beginning!
In the first three weeks of the season, the women's basketball team at Newman has had a jam packed schedule. They have already played eight games and competed in a round robin tournament. This week, they played away at Pope John Paul on Tuesday, at home against Patrick Taylor  on Thursday and away at Chalmette on Friday evening. In both the Pope John Paul and the Patrick Taylor games, the Newman team was able to gain a significant lead and play all members of the bench, ultimately winning both games. In the Chalmette game, Newman faced a difficult challenge, as Chalmette High is a 5A school, meaning they have far more students than Newman. Until this point in the season, Chalmette had only lost once, in a game that was played against another 5A team. Furthermore, they had scored over 50 points in every other game they had played this season. Your Newman team was able to hold them to 36 points in an intense game, but ultimately lost by 13 points. Although this was a challenging loss, this game was particularly notable because of the number of power-points that it has already earned the Newman team and will continue to earn as Chalmette continues to win games. Concluding this week, the Women's Basketball team record is 5-3, and players are excited about the prospects for the rest of the season.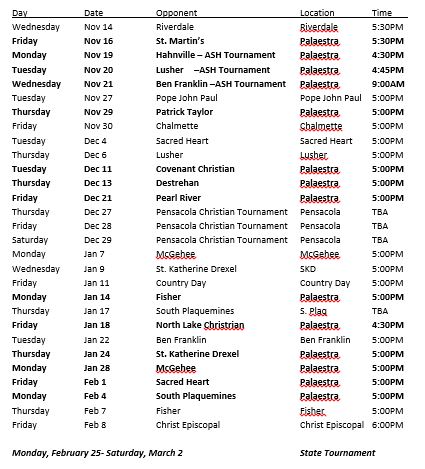 This week the team has two away games, Tuesday against Sacred Heart at 5:00 pm and Thursday against Lusher at 5:00 pm. The next home game will be on Tuesday December 11th in the Palaestra at 5:00 against Covenant Christian. The team would love support at these local away games, and upcoming home games!