A Look into Girl's Tennis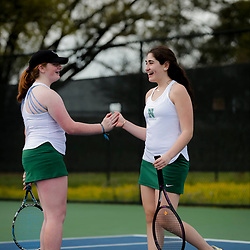 The Girls Varsity Tennis Team played two matches this past week while missing three very strong players on the D.C. trip. On Monday the 11th, they played Mount Carmel Academy at City Park. They lost 1-4, but they worked very hard adapting to the adjusted line-up  without the freshmen. To see pictures, check out @newmanathleticsphotos by Derick Hingle on Instagram. There are some great action shots of Monday's matches. @newmanvarsitytennis also has updates and photos.
Then on Wednesday the 13th, the team competed against St. Martins at UNO. The freshmen were gone, still in Washington, and another player was out sick; the girls team only had 5 players. Newman fought for a 2-1 win, and the entire team stood by the court to support as the remaining doubles match went into a tie-breaker. They did not win the tie-breaker match, but Newman took the overall win! The girls are looking forward to another match against Ben Franklin at UNO, and next Wednesday, they'll have a full line up!