Opinion: We Don't Need to Win Homecoming
It is high school football tradition for homecoming to be a blow out. Last week's game demonstrated that it's time to change that tradition.
The Newman student section has witnessed a lot of sad football in its day. There have been the last second plays that deliver the other team a win in the playoffs. There was the 2018 Newman vs. Country Day game where a touchdown by Country Day with 35 seconds on the clock left the entire student section on the verge of tears. All of these games were sad in their own right, but nothing felt as tragic as the Homecoming game against Cohen.
This year, unlike the sad games of the past, Newman was forecast to win – the only question left was by how much. Going into the game expectations were low, Cohen only had seventeen players on their roster, compared to the almost one hundred player deep roster for Newman. Prior to kickoff students had started comparing score projections. Many people agreed it would be a blow out. Some predicted 36-0, others predicted a score closer to 50-10. Nobody believed the score would get above 60-0.
Yet, those who predicted the largest point spread were correct. Newman scored on the first drive. And then kept scoring. At the end of the first quarter the scoreboard read 46 to nothing. By the end of the half it read 60 to nothing, fulfilling our end of the game prophecy a whole half early.
Under any other circumstances this game would have been sad but not tragic. But this was not any normal game, this was homecoming and senior night for both the football and cheer teams.
Students wanted a real, competitive game that night. The stands were packed with the senior class who was there to cheer on their peers. But, by the end of the first quarter those cheers were replaced by guilty whispers. By the end of the half the general consensus became "I can't watch this anymore."
Many students, the author of this article included, ended up leaving the game after the homecoming presentation. As a student body we wanted to see our team win, but we didn't want to see them score touchdown after touchdown against a team that we all knew from the start was no match.
It is high school football tradition for homecoming to be a blow out. Last week's game demonstrated that it's time to change that tradition. Students should leave homecoming proud of their school, its football team, and the court. This year we left at half time, embarrassed. Had it been a competitive game, even a competitive game that we lost, that sense of pride would have remained.
The football schedule this year was difficult to navigate given the ongoing pandemic, and the student body understands that scheduling constraints may have backed the administration and athletic department into a corner. But we also want homecoming be a real game, one where we can yell scoreboard proudly and not feel ashamed to cheer. We don't need a win on homecoming, we need a competitive game.
Next year football will undoubtedly look different, and hopefully a little more normal. But as a program and as a school we should take the lessons we learned this year to ensure that homecoming is not a tragedy, rather that it is a time of celebration and pride in our school because, in the end, that is what homecoming is all about.
About the Contributor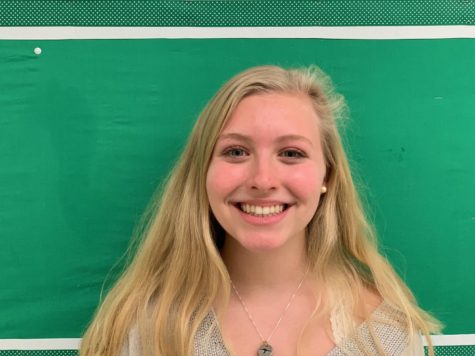 Serena Klebba, Editor-in-Chief
Serena is a senior who has written for the Navigator all four years of high school. Some of her favorite memories from her time working with the paper...