Locker Rooms, Headsets, & Divisions – New Additions to the Newman Swim Team
Now in division three, the Newman swim team receives renovated locker rooms and a new headset communication technology for practice!
The Newman Swim team is halfway through the 2022 swim season with only two more regular meets remaining before the State Championship Meet on November 16th-17th. The new season brings several changes to the team, including moving up a division, a new headset technology for practice, and renovated locker rooms!
Along with the addition of five new freshman swimmers, the Varsity Swim Team moved up from Division 4 to Division 3. This change decreases swimmers' chances to qualify for state in certain events due to harder qualification times, causing the team to practice harder and work more towards reaching their goals. Head Coach Scott Robinson says: "The biggest change for Newman  in moving from Division IV to Division III is how much faster the qualifying times get. The qualifying times for boys to attend State Meet are an average of over 15% faster while the Girls' qualifying times are about 8% faster. Obviously, this is a huge challenge for our team but it is one that I have really seen our athletes step up and accept and do the things in practice needed for them to make it back to State Meet again this year."
To enhance their speed and refine their stroke form to meet these faster times, the swim team received a special walkie-talkie headset technology–requested by Assistant Coach Allison Cransac and granted by the Newman Green N White Club–to use during practice. These headsets, which each swimmer wears during practice, allow the coaches to use a walkie-talkie to communicate with swimmers as they are swimming in the pool, giving coaches the ability to provide feedback to swimmers as they are swimming, rather than waiting until they finish their laps. Swimmers are divided into two groups, channel red with Coach Scott and channel blue with Coach Cransac, to allow the coaches to focus more on improving swimmers individually. As they are swimming, swimmers will often hear Coach Scott saying, "Long strokes, Nick" or "Hold your streamline, Elias," along with other ways to improve their strokes.
These headsets bring positive and negative opinions from members of the swim team. Some complaint about the static noise or hassle to secure it on your head, but overall the entire team recognizes the importance of this new device to the team's success.
Swim Team Co-Capitan Isabelle Plaisance states: "I see both ways with these headsets. For the sake of improving the team, I think it's great because it helps the coach give faster and more effective feedback. It keeps the team focused and helps shorten the communication distance. They're also just pretty cool tech. But on an individual level, I personally love to kind of zone out in the water during longer sets and just take a break from thinking, and going from that to constant feedback from the coach is a big change. It can be kind of overstimulating – having a cap, goggles, headset, sometimes snorkel, and then constant static in your ear in a loud pool is a lot. It definitely felt weird the first few times. But I think they're useful in the long term and I'm glad we have them." Isabelle spoke with Coach Scott and requested to have one or two days a week where the team swims without the headsets, which has been implemented into the practice schedule to provide swimmers with a mental break.
Sophomore Elias Hutchings says: "They're useful but kinda uncomfortable, and they take a while to get on." The headsets take some time to put on swimmers' heads since the straps of their goggles need to be placed over the headset to secure it while swimming. The new technology took some time to get used to, but now that the team has used it for a few weeks, they are starting to get the hang of it.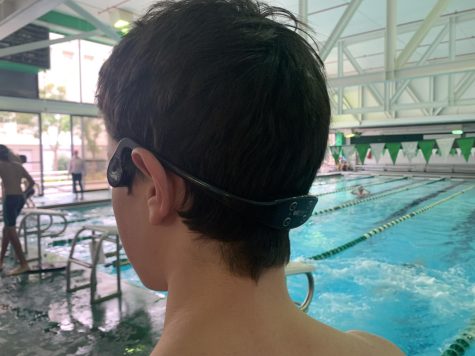 Additionally, the swimming locker room renovations have been completed, giving swimmers a fresh space to change and prepare for practice. The locker room area includes larger lockers with new benches to sit on before and after practice while changing. The bathroom area includes toilets with larger stalls, new sinks in the center, and two large showers with changing stations right outside of them that include hooks for hanging bags and a bench. These renovations provide swimmers with improvements that make changing easier and a nicer space to use during the season. Most swimmers are just happy the space is complete after having to change in bathrooms all across the school the past two months during the renovations.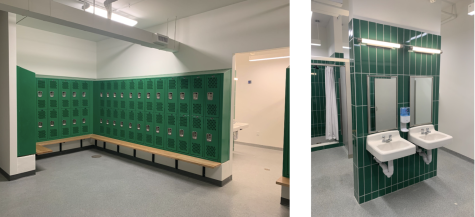 The season has been going well with several qualifications for state and many improvements in seconds dropped in each event for every swimmer. The swim team looks forward to seeing their progress by the end of the season and is excited to finish the year strong as a close group of student-athletes.
About the Contributor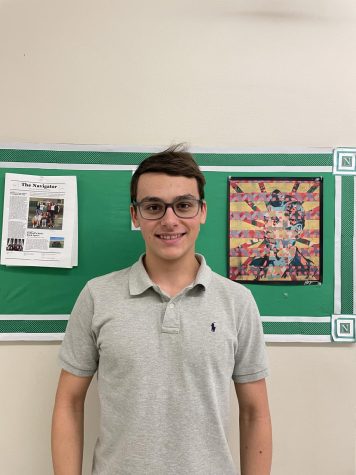 Nick Rezza, Technology Coordinator
Nick is a current junior, who oversees all technology for the Navigator, including managing the website and working with the software for the print publications....