Class of 2021 Attend African American Museum During Freshmen Trip
On Thursday, February 22nd, Newman students and teachers on the annual Freshman Trip to Washington D.C. visited the African-American History Museum for the first time.
The reception from those who attended the museum seemed to be near unanimous approval.
"They went above and beyond with all of their exhibits, and everything they had. With just like 4 floors of great history, and it was just eye-opening," freshman Joseph Pleasant said.
The exhibits ranged widely in variety, from a comprehensive history of the African-American people from pre-enslavement to present day, to room after room depicting African-American culture and community. Freshman Stone Kletecka appreciated this variety greatly saying, "I liked it because it had so many exhibits ranging from war, to art, to even sports."
The museum was not just a hit with students, faculty chaperone and English teacher Max Henderson expressed how impressed he was with the museum's exhibits, and went on to say how important he thought it was for students to get the chance to see a museum like this: "History in America is extremely complicated. I think the only way it gets easier to understand is to hear voices from multiple angles. We had just spent probably 24 hours in Virginia looking at different plantation sites and hearing what felt at best was a soft liberal wrestling with the legacy of the fathers of our nation and their relationship with slavery, and at worst was kind of a soft-shoeing romanticization, and so I think you needed to hear from both sides and both angles."
The Smithsonian's newest museum opened last year, and while it was open when last year's trip was in the nation's capital, demand was too high for them to visit. The organizers of the trip made a concerted effort to give students the chance to see the lauded museum this year. Mr. Henderson said that the organizers of the trip were initially interested in finding a way for all students on the trip to attend the museum together. Many students agreed that this was the best way of handling things.
"I believe that everybody – just like we all went to the Holocaust museum – I feel like we should all take our time to go to the African-American Museum," Joseph Pleasant said.
However, Mr. Henderson also said that due to the popularity of the museum, a tour for the entire class would not have been possible, at least not all at the same time. In order to be admitted to the museum, you must register a time slot the day of. In order to get as many tickets as they could, the chaperones on the trip woke up at 6:30 on Thursday morning and secured over 50 tickets for students. This act seemed to be greatly appreciated by the many students who were interested in attending.
"I loved that Newman did that. It gave people the option to go see it if they wanted to and if they didn't want to then they didn't have to go," said Stone Kletecka.
While Newman was able to give most students the option of attending the African-American History Museum, many students chose to visit other museums on the mall instead. Their reasons for not choosing the African-American museum were varied, but the most common reason was similar to Pepijn Kuiper's. He said that he didn't want to take up a ticket to the African-American museum when he was interested in others like the Air and Space Museum. When asked whether or not he regretted his choice, Kuiper said "I don't really know what I missed out on."
When asked whether he thought that more students should have made an effort to attend the African-American museum, Mr. Henderson didn't think so. He expressed an understanding that there are a wide variety of interests in the Freshmen class, and that there are too many museums in that area of D.C. for a student to see them all. He also said that he believed that by giving them a choice, it insured that those who attended would be the ones who would get the most out of it. However, he does believe that the museum offers a unique opportunity for insight among Newman students specifically.
"In a school that is predominantly white and does not always grapple with history, or does not always have to grapple with history, I sometimes wonder… how it is that [students] frame the black experience because it is a very difficult conversation to have," Mr. Henderson said.
He went on to explain that the museum offered a more complete view of the African-American experience than most Newman students might be familiar with: "I can think about what it was like when I was a boy and the times that I attended schools that were predominantly white. There is also the stigma of thinking that black life is only suffering or slavery; you go in that museum and you realize there is a whole spectrum."
About the Contributor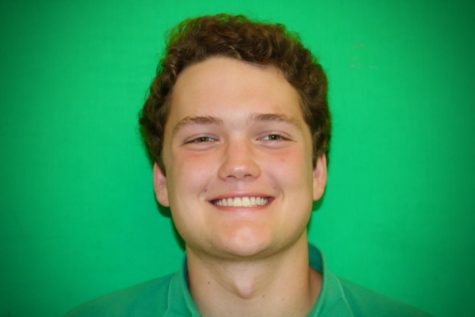 Wicker Perlis, Writer
Wicker Perlis is a 12th grader who writes articles for the sports section. His favorite color is green, he has a pet dog named Cody, he is an Aries, he's...