Helping Orphaned Joeys in the Australian Fires
Zoe Plaisance sews pouches for orphaned joeys
Whether you agree with the reasons behind climate change or not, it is clear that our biosphere is becoming more intense and dynamic than it used to be.
The world is beginning to face much more extreme weather conditions and higher temperatures, which will drastically increase natural disasters. As the global temperature steadily rises, scientists warn "this hotter, drier climate will contribute to fires<https://www.bbc.co.uk/news/world-australia-50341210>" (The BBC). This is especially a crisis in Australia, where their climate is at a huge risk of bushfires. Such fires are currently spreading much more rapidly than before.
Although Australia is accustomed to a "fire season" much like our hurricane season, fires have noticeably gotten more intense and out of hand. Satellites have captured shocking visual footage of the damage the blazing fires have dealt. The impacts on Australia's forests, farms, people, and wild animals are devastating.
Their animal shelters are working tirelessly to help the creatures struggling in this critical condition. Their calls for help have been answered by volunteers and donors from all around the world. The one we're covering today is a 5th grader at Newman.
To help with this catastrophe, Zoe Plaisance refined it to one critical task: helping the young orphaned marsupials. A tedious part of the process was research; dozens of tabs on search engines compiled information on requirements and instructions for many detailed volunteer projects. A list of high-priority supplies and aid for Australian shelters became Zoe's jackpot. She rooted her project down to sewing pouches for the orphans – a complicated craft that was one of the highest priorities on the list. These pouches mimic the sacs of the marsupial – a cozy, warm home for the baby. This, too, required more searching online.
Mrs. Plaisance and Zoe soon put together a shopping list, and after carefully analyzing each item, set out to Joann's. (Who would have thought helping to fight brutal fires can take just about a trip to a local crafts store?) From the first computer tab, they recognized the pouch linings for sugar-gliders must be 100% cotton and changeable; on tab two, they noted the wallabies' pouches must be as soft as possible; the next five tabs displayed patterns for the pouches, specific to diverse range of orphaned joeys (note: baby possums, gliders, kangaroos, wallabies, koalas, wombats and bandicoots are all referred to as 'joeys').
The project was a complicated work, taking dozens of insightful instructions from across the internet and honing it in to their own final design. In under 48 hours, the tedious process of research, supply-gathering, double-checking, and meticulous sewing was complete. Zoe worked hard on extra-extra small pouches first, perfectly using her hands and skills for the task. Next, they tackled hanging wallaby bags which required heavy-duty cotton lined with softest natural fabric. They sewed both day and night bags, each with slightly different design. Lastly, medium sized pouches designed for baby koalas, each with 3 super-soft lining. These perfected finished pouches will be shipped this Saturday to shelters in Australia and will include Zoe's handwritten notes expressing love and care for the orphaned joeys.
Zoe's amazing contribution to shelters in Australia is one helpful deed among thousands of other detrimental volunteers. Still, more is needed. Australian fires continue to progress and increase in severity, and that catastrophe is only one among several others. In a biosphere becoming more turbulent and prone to natural disasters, helping out in any form possible – be it in donations, crafts, or even forwarding the news – is vital.
Thank you, Zoe, for your hard work and dedication to a tremendous cause. Hopefully, your work will inspire others to pitch in their talents, too.
About the Contributor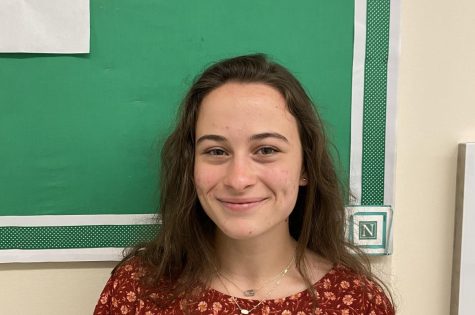 Isabelle Plaisance, Editor-in-Chief
Isabelle (Class of 2023) is a four-year veteran of the Navigator crew. She loves to write opinion pieces unprompted and also commonly sponsors the Varsity...