Upper School Student Ignores Spirit Week Costume Themes, Dresses as Kramer from Seinfeld Every Day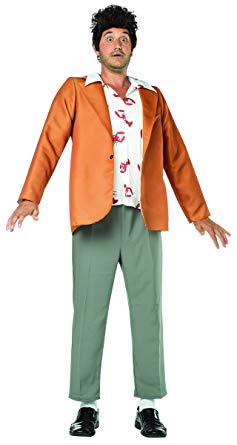 As spirit week begun on October 1st, many students could be seen wearing costumes for the different days: pajamas on Monday, holidays on Tuesday, etc. However, one student decided to reject this norm and instead don an online-ordered five piece Cosmo Kramer costume each day of the week.
The costume consisted of a pair of black loafers, a white button-down shirt patterned with lobsters, a brown jacket, grey slacks that end just above the ankles, and a curly brown hair wig.
"I'm Kramer," said the student, who has chosen to remain anonymous, "you know, from Seinfeld."
Cosmo Kramer is a fictional character from the Seinfeld TV series (1989-1998) who was portrayed by Michael Richards, actor and comedian. The goofy character, prone to bouts of physical comedy, could often be seen tripping, falling, and flailing awkwardly throughout the series.
However, the student chose not to mimic the personality of Kramer, and instead, be himself.
"I'm not acting like Kramer or anything. I'm just dressed like him. It's spirit week so it's not about being Kramer, it's just about getting to wear his clothes," explained the student.
When asked why he decided to ignore the festive themes of the week, he responded, "I've always been really into Seinfeld and Kramer is my favorite character. I used to watch episodes with my dad and he would always laugh and smile uncontrollably whenever Kramer showed up. I've seen every episode at least fifteen times. Do you want to hear my top ten Kramer quotes?"
I respectfully declined his offer.
Though the student wore the outfit every day of the week, he was somewhat surprised by the reaction it provoked. "I've been dressed as Kramer every day and no one has noticed," he said. "I guess they're just too caught up in the festivities to give it any thought."
This year, dear students, as you celebrate your school spirit and hope to defeat the Country Day football program in a glorious show of athletic prowess, keep in mind that while you use this joyous five day span to further your righteous enthusiasm, there is a Kramer among you. You may never hear about him, you may never see him, you may never even picture the possibility of such a peculiar circumstance, but rest assured, he exists. He walks the hallways you walk, he eats the food you eat, he breathes the air you breathe, but you never even knew he was there. Tread lightly, dear reader, for a day will come where you may notice him, and when that moment strikes, he will never leave your mind.
The Cosmo Kramer costume can be purchased here: https://www.walmart.com/ip/Kramer-Seinfeld-Men-s-Adult-Halloween-Costume/45075692?wmlspartner=wlpa&selectedSellerId=1143&adid=22222222227034245218&wl0=&wl1=g&wl2=c&wl3=89206918368&wl4=pla-123769133568&wl5=9025155&wl6=&wl7=&wl8=&wl9=pla&wl10=112549980&wl11=online&wl12=45075692&wl13=&veh=sem&gclid=EAIaIQobChMIw6_B16Pp3QIV2bbACh13wgp_EAQYASABEgJbn_D_BwE